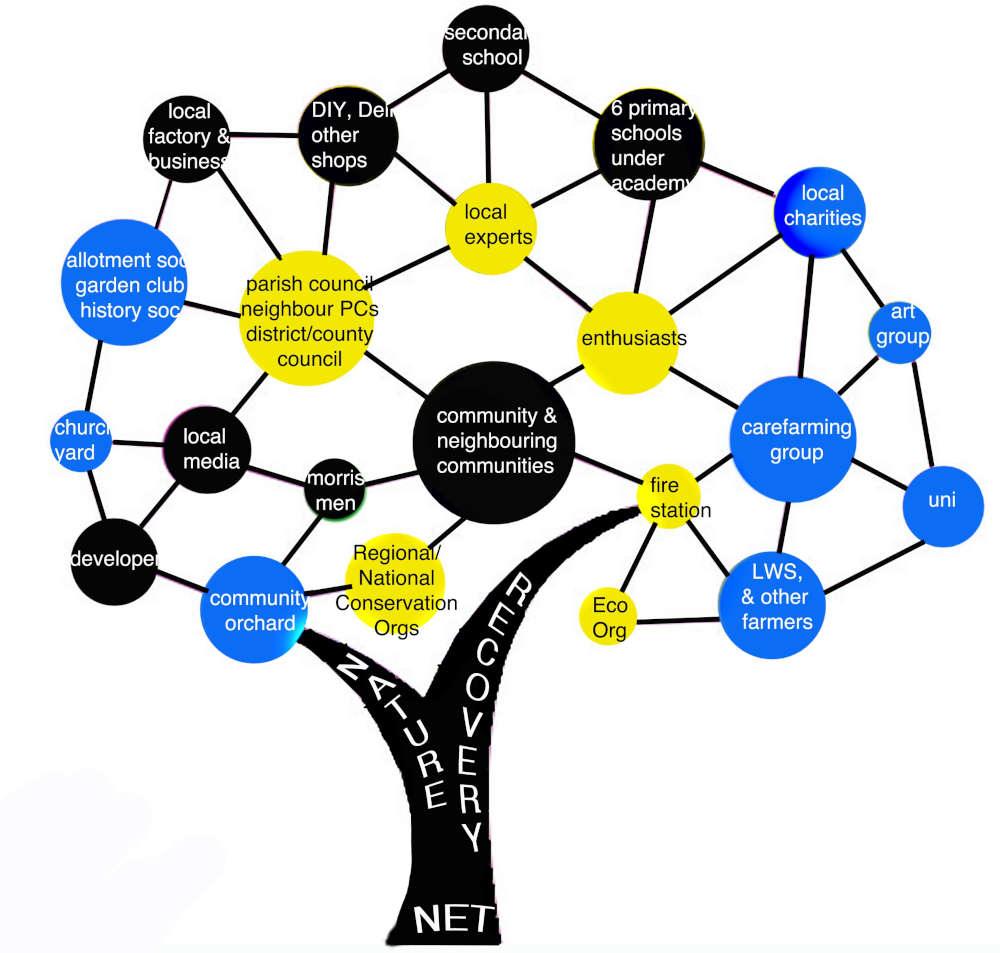 Nature Recovery Network
A Network of People working for Nature Recovery
Bulletin, February 2022
Wild Arts kicked off with Mud and Clay, alias 'Signs and Wonders' in which Bob Cowley introduced the Workshoppers to the esoteric art of identifying animal tracks, followed by Alison Holmans, who showed us the wonders of Earth, Wind and Fire.
Read Alice Walker's fly-on-the-wall account of the event. If you would like to join the second Wild Arts Workshop on 'Winter Trees', on the 12th February, sign up here.
It seems that NRN Workshops are de riguer these days: The EPA Schools Nature Recovery Workshop also launched their first event. Theirs is a highly innovative initiative that links the 8 schools in the Eynsham Partnership Academy (EPA) in a seriers of 4 Workshops sponsored by Natural England to create a network of nature savvy teachers who will develop nature recovery projects in their own schools.
Eynsham's hugely successful Great Big Green Week has now made it onto the Small Screen. I'm sure you'll agree its BAFTA nomination material.
Its been a long and sleepy winter for our Hedgehogs, but there are signs of stirring. For all you avid Hog Watchers emerging from your own winter hibernation, here is the latest sitrep - the '
Hog News Issue number 5
, delivered by our intrepid duo of editors, Don and Judy Reid.
For those of you who have not yet admired the cover picture of February's
Eynsham News
and read the story of our collective adventure, your NRN reporter was on hand to
record
for the Website the NRN event of 2022 (so far!) in which 70+ enthusiastic planters from Eynsham and surrounding parishes teamed up to plant 320m of hedge along the edge of the Carnival Meadow. Awesome!
And Last but not Least, Nina Warburton has an exciting Invitation for hedge planters:
'Please come along and plant a native hedgerow at our school!'
Date: Sаturday 12th and Sunday 13th February 2022
Time: 10am to 1pm
Place: Eynsham Primary School. Meet at the school gates, or walk through to the Astroturf (if you intend to join a little later)
Dress: Informal. Bring along your gardening gloves and spades, a hot drink and a lot of enthusiasm!
This is part of the welfare garden project creating a new learning place to outside in a natural environment. The hedgerow is the first part of planting the garden. It aims to connect into a wider network of wildlife corridors, providing habitats and food source, and to increasing biodiversity on our school site.
The hedgerow plants are kindly provided by the Nature Recovery Network, whose sole mission is exactly what is says: help nature recover to increase biodiversity.
If you are able to support this project for the children of our school, please get in touch with Nina.