NRN Wild Arts Mud & Clay workshop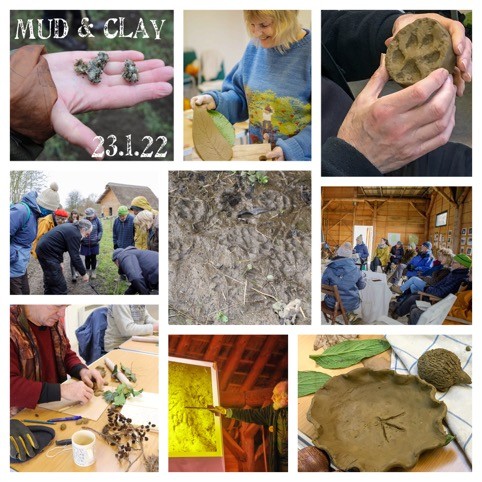 Alice Walker writes:
On Sunday 23rd January a group gathered at Long Mead Barn, Eynsham to learn how to spot the tracks and signs of wildlife all around us. Local wildlife tracker and mammal expert Bob Cowley soon had us distinguishing between dog and fox prints, squirrels, rabbits, cats, badgers and more. We discovered 'rules of finger' to help us sort our muntjac deer from our red, roe and fallow deer prints. Moving outside we found these imprints scattered all around in the fresh mud and earth including most thrilling of all beside the wharf stream-otter prints!
Alongside these traces were other signs - otter spraint -stuffed full of fish scales and tiny teeth, and kestrel pellets -droplet shaped parcels of fur and bones. Bob pointed out tracks through fields and trees where numerous mammals moved between burrows and hunting grounds, marking out their territory on the way.
The afternoon brought further discoveries as ceramic artist Alison Holmans encouraged us to get creative with locally sourced clay. The cool soft slightly sticky clay was impossible not to play with and Alison showed us how to mould and imprint the clay with leaves, tools and hands until beautiful and interesting shapes started to emerge. An added inspiration was seeing images of clay tiles from Roman Britain that contained 'accidental' imprints including sandals, animals footprints and even a squashed mouse (species as yet unidentified).
This innovative collaboration of science and art, exploration and expression made for an absorbing and enriching experience that has already changed how and what I see around me.