Klärwerk Werhölzli, Zürich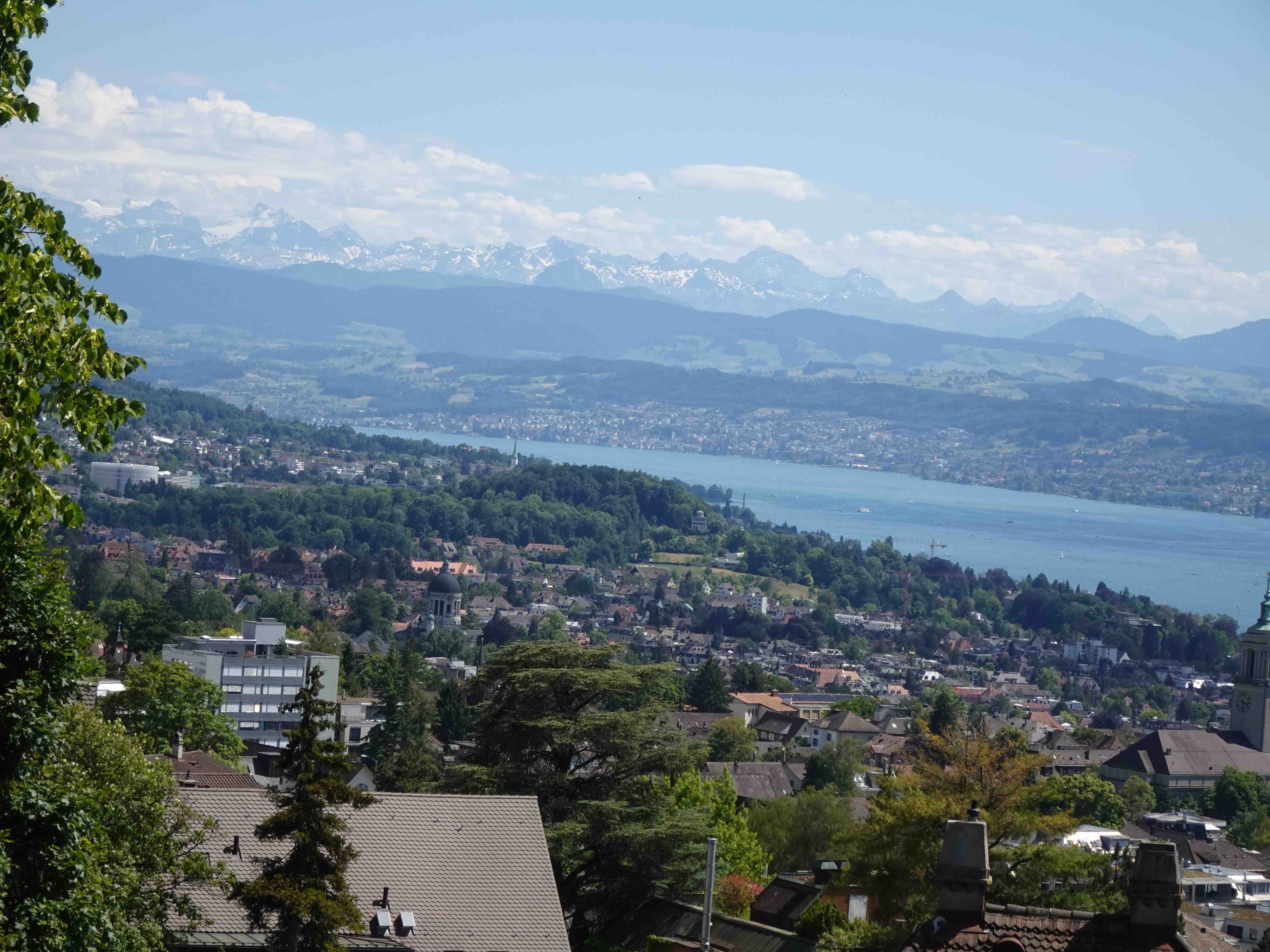 When you think of Zürich, you may think of the lake, the Old City, the local mountain, Uetliberg, with its views to the Eiger and Jungfrau, its many museums, its exceptional transport system, or its rich cultural and street life. You probably don't imagine that Zurich is also home to Switzerland's largest sewage works ('Klärwerk'), which is located at Werdhölzli, next to the Limmat, one of Zurich's popular swimming rivers. Zurich City have made a short film about the works, but given our current crisis of river, lake, and sea pollution by raw sewage, and given our own on-going NRN project to document the water quality of our local watercourses, I was interested to see for myself how Werdhölzli compares to Cassington's Sewage Treatment Works, the subject of a previous NRN 'Long Read'.
Kevan Martin
(Note to nervous readers: this one is a much shorter read!)
I was fortunate enough to be given a personal tour of Werdhölzli by two of the process engineers who work there. They began by giving me a brief history of waste water treatment in Switzerland and what they told me was surprising: up until the 1950's waste was dumped directly into rivers and lakes. This included domestic and toxic industrial waste, in quantities enough to kill fish and lead to bans on swimming in some lakes and rivers. This was clearly a problem since virtually all cities and major towns in Switzerland are situated on rivers and lakes.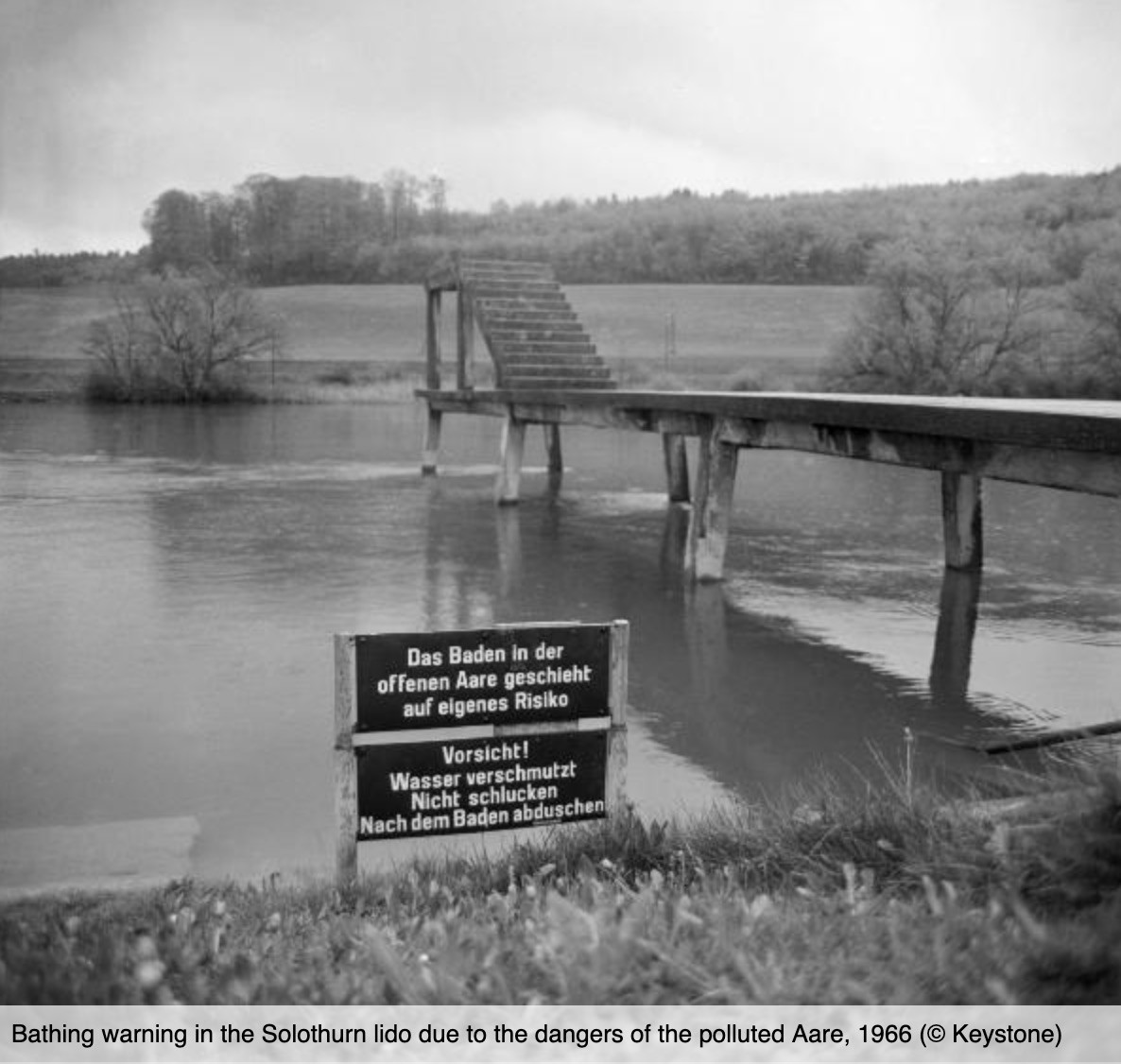 Although some cities like Zürich, Luzern, and Bern had installed rudimentary water treatment plants by the mid-19 century, the first Federal law governing water treatment only came into force in 1957 (after a referendum where 81% voted for an initiative for water protection). Uptake amongst the cantons, however was slow because of insufficient subsidy; in 1961 the Neue Zuricher Zeitung reported that, "up to now, water pollution control has mainly been on paper, and what had been done up to then was only a drop in the dirty broth that most of our public waters have become today."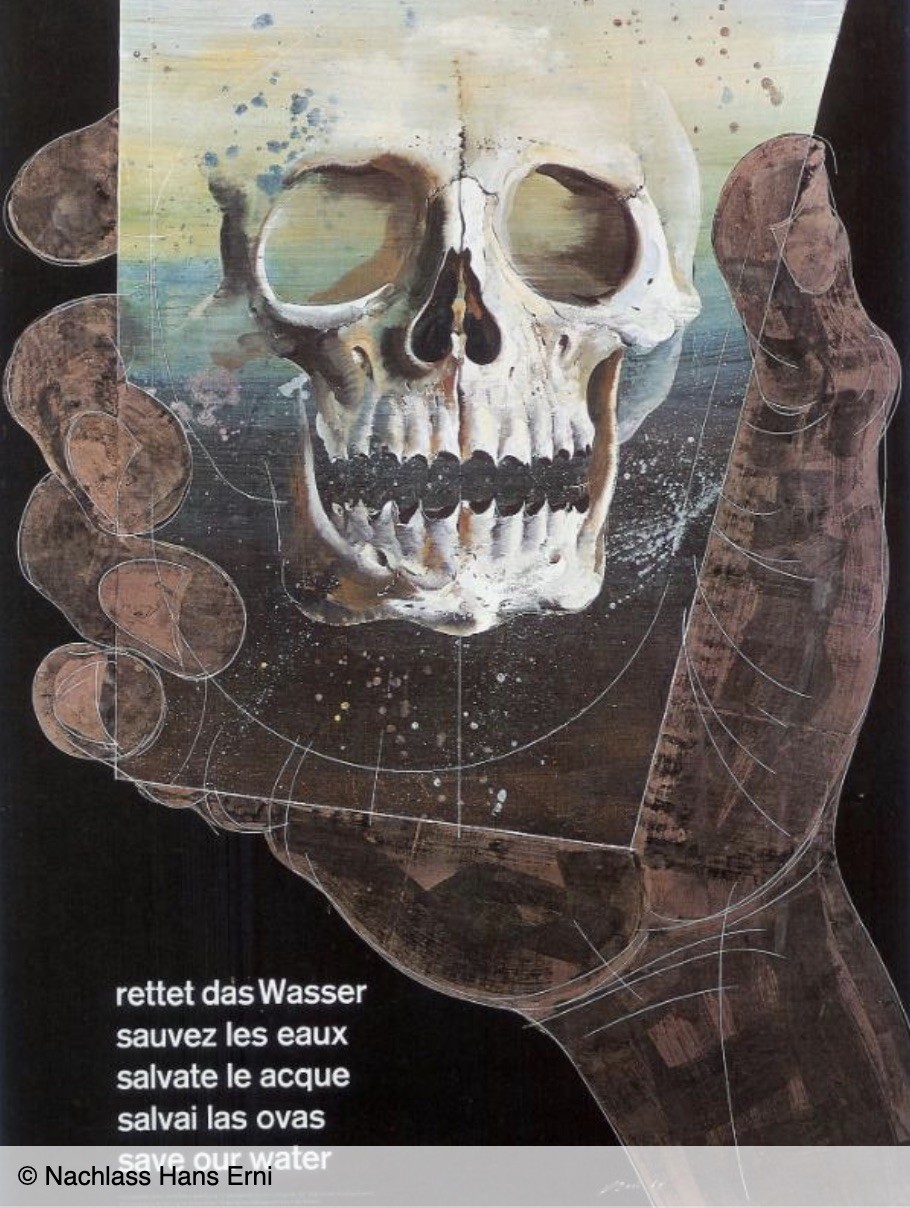 Through the 1960's water pollution was a constant topic in the Swiss media. Fish mortality, algal bloom, bathing prohibitions and chemical spills were presented in vivid images underlined with almost apocalyptic texts. Calls for stronger water protection led to demonstrations in Lucerne and the peoples' fears were captured in a poster by Hans Erni, "Tod im Wasserglas"(Death in a glass of water) which apparently was very popular. The media fuelled the public demonstrations and political debate, which created additional pressure on the federal government.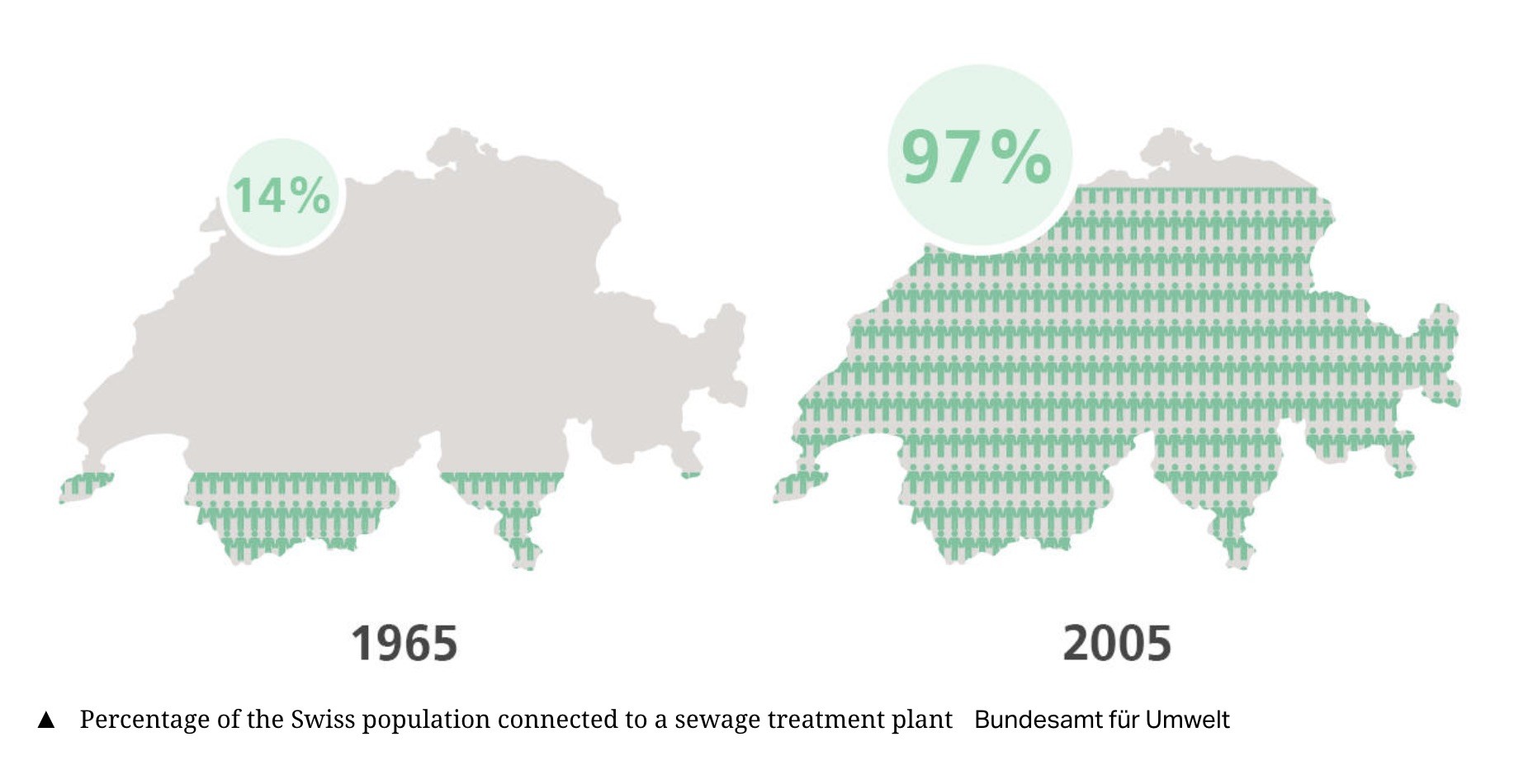 By 1965 still only 14% of the population of Switzerland were connected to a waste water treatment plant, most relying on septic tanks at best. The eutrophication of rivers and lakes by waste water was such that 'sea-cow' boats were used to dredge the algae from lakes. Of course, illnesses like diarrhoea after swallowing lake water were not uncommon, but it took another typhus epidemic in 1963 in the mountain resort of Zermatt to trigger a radical change. In that outbreak, 450 people fell ill and 3 died due contamination of drinking water contaminated by sewage from a camp for workers who were building the Grand Dixence dam in the valley above Zermatt. This was the spur to action for the federal government and cantons, who then voted to subsidise the construction of wastewater systems in local communes.
As with much Swiss legislation, the call for better water protection came from the public through the mechanism of direct democracy. The people's initiative of 1967, 'Protection of waters against pollution', led to changes in Swiss laws about wastewater treatment. By 2005, and at a cost of SFR 50 billion, the infrastructure was built to connect 97% of the population to a central sewage treatment plant. This involved building a 130 000km sewer network connected to 800 treatment plants. There is now an ongoing program to consolidate the smaller plants built throughout Switzerland.
The Swiss Federal Institute of Aquatic Science and Technology (Eawag) has created an infographic that traces the history of Swiss water legislation and actions.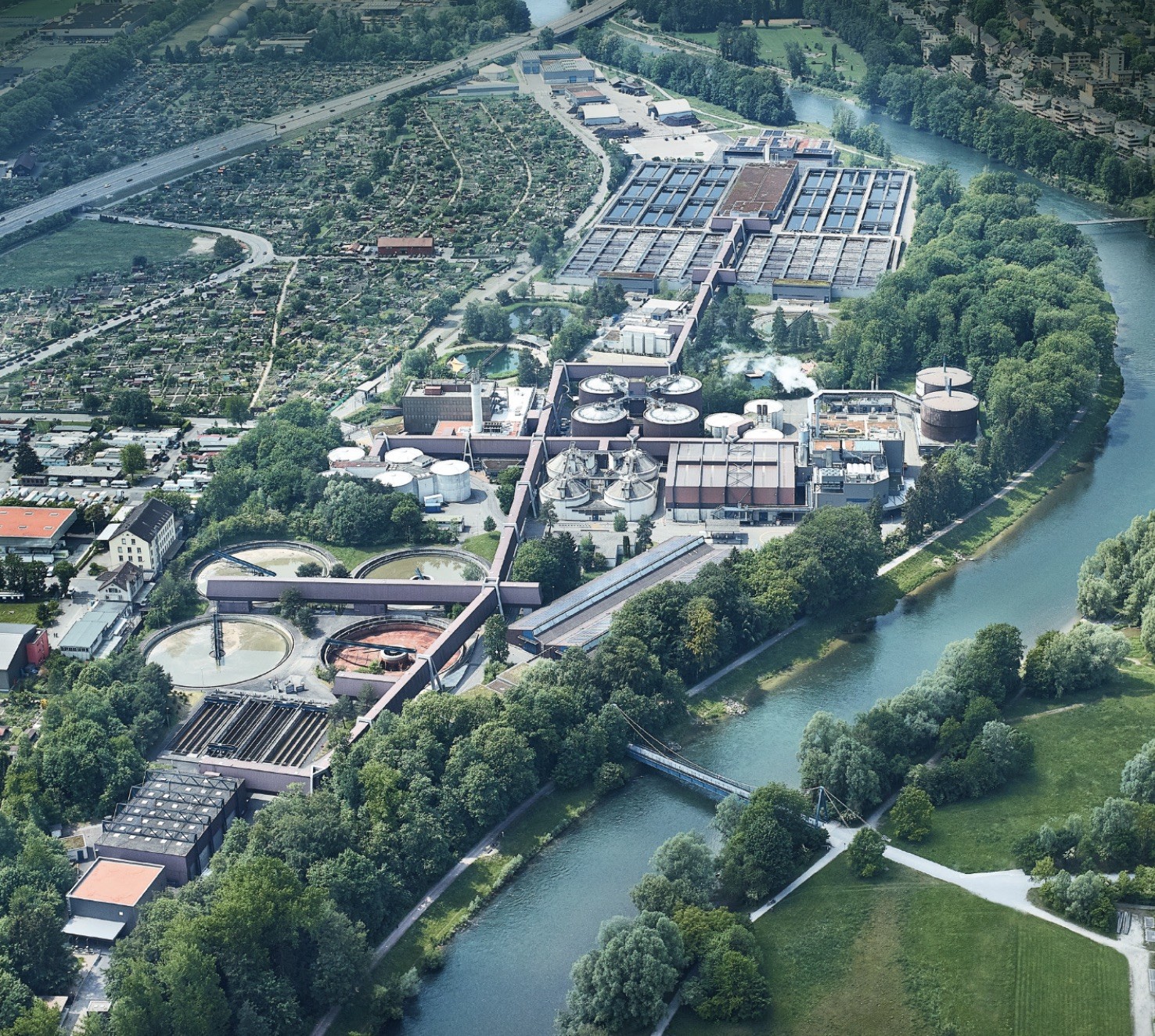 The Werdhölzli Sewage Treatment Works, which is a public utility, now treats the waste water from over 650 000 people in Zurich and surrounding communities. It has the capacity to treat 6 cubic meters of waste water per second, but typically the loading is 2 cubic meter per second – which amounts to about a supertanker load per day. The Zurich sewer system combines waste water and the storm water e.g. from road drains, as does most of the UK sewer network, although new legislation requires that stormwater and sewage are carried in separate sewers.
In the event of heavy rainfall, the excess flow is buffered in large underground reservoirs that have a total capacity of 40 000 cubic meters. This temporary store of water is then pumped out to be treated as normal. When the reservoirs are emptied, they are flushed and cleaned. When the reservoirs are full to the brim, however, any excess inflow is released directly into the Limmat river as untreated sewage. My guides told me that because the capacity of the reservoirs is well-matched to the load in heavy rainfall, the release of raw sewage is rare event.