NRN's Long Read for New Year 2021
Since time immemorial trees have been significant for humankind: the tree of Good and Evil in the garden of Eden, the Sycamore tree in Jericho that Zaccharias climbed so he could see Jesus, the Bhodi tree where the Buddha attained enlightenment, the Ankerwycke Yew tree on Runnymede, which is the last surviving witness of King John's signing of the Magna Carta, Newton's Apple tree still growing at Woolsthorpe Manor, and of course, the now ubiquitous Christmas tree, a fir tree laden with decorations and underlain with presents.
Of all the many poems inspired by tree, one of the most memorable is Joyce Kilmer's, which begins, 'I think I shall never see/A poem lovely as a tree'…and ends, 'Poems are made by fools like me/But only God can make a tree.' The words were set to music and sung by the likes of Paul Robeson, Mario Lanza, and Peggy Page – but of course that was aeons before you were born!

Age before Beauty

Trees impress us not just because they create woodlands and forests, but because of their size and their longevity relative to other living things. Giant sequoias reach over 250 ft in height and have a circumference exceeding 100 ft. The oldest known living tree is a Great Basin bristlecone pine in California, which recently celebrated its 4852nd birthday. A Mediterranean cypress in Arbaku, Iran, may be as old. The oldest intentionally planted tree is a sapling from the Bhodi tree, planted in 245 BCE by Sanghamitra, daughter the Emperor Akosha. We now learn from our resident tree expert, Sarah Couch, that the UK is relatively well-endowed with ancient trees compared to other European countries.
It is because trees have such long lives that they have become a means of memorialising people and events. Eynsham has its own Peace Oak, planted in 1919 to commemorate the first anniversary of the armistice of 11 November 1918.
Still Missing-in-Action are a dozen veteran mulberry trees, which Rupert Boulting says date from Eynsham's dim and distant past. If you know the whereabouts of any of these veterans, please let us know so we can put Rupert out of his mystery.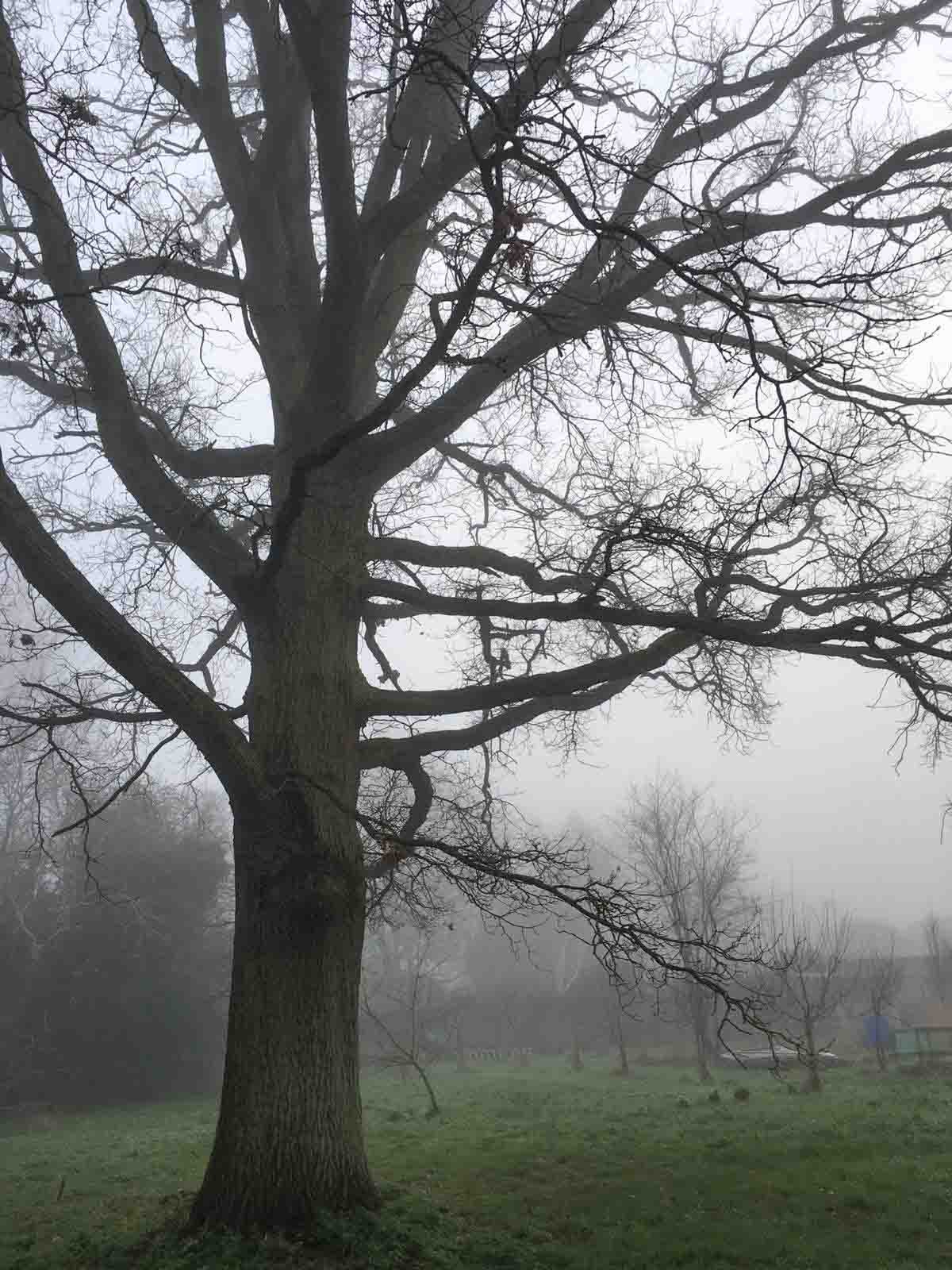 Stop me and buy one

The commercial value of trees is universally appreciated. Indeed, perhaps the still most influential book on trees in the English language is John Evelyn's Sylva: A Discourse of Forest-Trees, first published in 1664, and written partly out of concern that deforestation was a risk to the security of the British Fleet. He railed against those who treated trees like weeds and his defence of alders has a contemporary relevance, particularly for us who live along the riverside:
'There are a sort of husbands who take excessive pains in stubbing up their alders, where-ever they meet them in the boggie places of their grounds, with the same indignation as one would extirpate the most pernicious of weeds; and when they have finished, know not how to convert their best lands to more profit than this (seeming despicable) plant might lead them to, were it rightly understood. Besides, the shadow of this tree, does feed and nourish the very grass which grows under it; and being set, and well plashed, is an excellent defence to the banks of rivers; so as I wonder it is not more practis'd about the Thames, to fortifie, and prevent the mouldring of the walls, and the violent weather they are exposed to.'
If we go further back to 1086 and the Domesday Book, we find that about 15% of England was wooded but this percentage declined inexorably to its lowest point just after the Great War when only 5% of England was under trees. This nadir prompted the creation of the Forestry Commission to promote afforestation amongst landowners. A century later, the percentage is rising towards 10% but only 2.4% of all forests are classified as 'ancient woodland' - the type of woodland that John Evelyn might have walked through. Despite the accelerated afforestation through most of the 20th century (and continuing) England's total forested area is still only a fraction of that found in most European countries.

This month, in his Reith Lecture entitled 'How we get what we value', former Bank of England Governor, Mark Carney posed the question: 'Why do the financial markets rate Amazon as one of the world's most valuable companies, but the value of the vast region of the Amazon appears on no ledger, until it is stripped of its foliage and converted into farmland?' At our local level, we are all finding, again and again, that our invaluable natural world is being disposed of because it doesn't have a line in the ledger, and so it vanishes despite the best efforts of our community to attest its worth.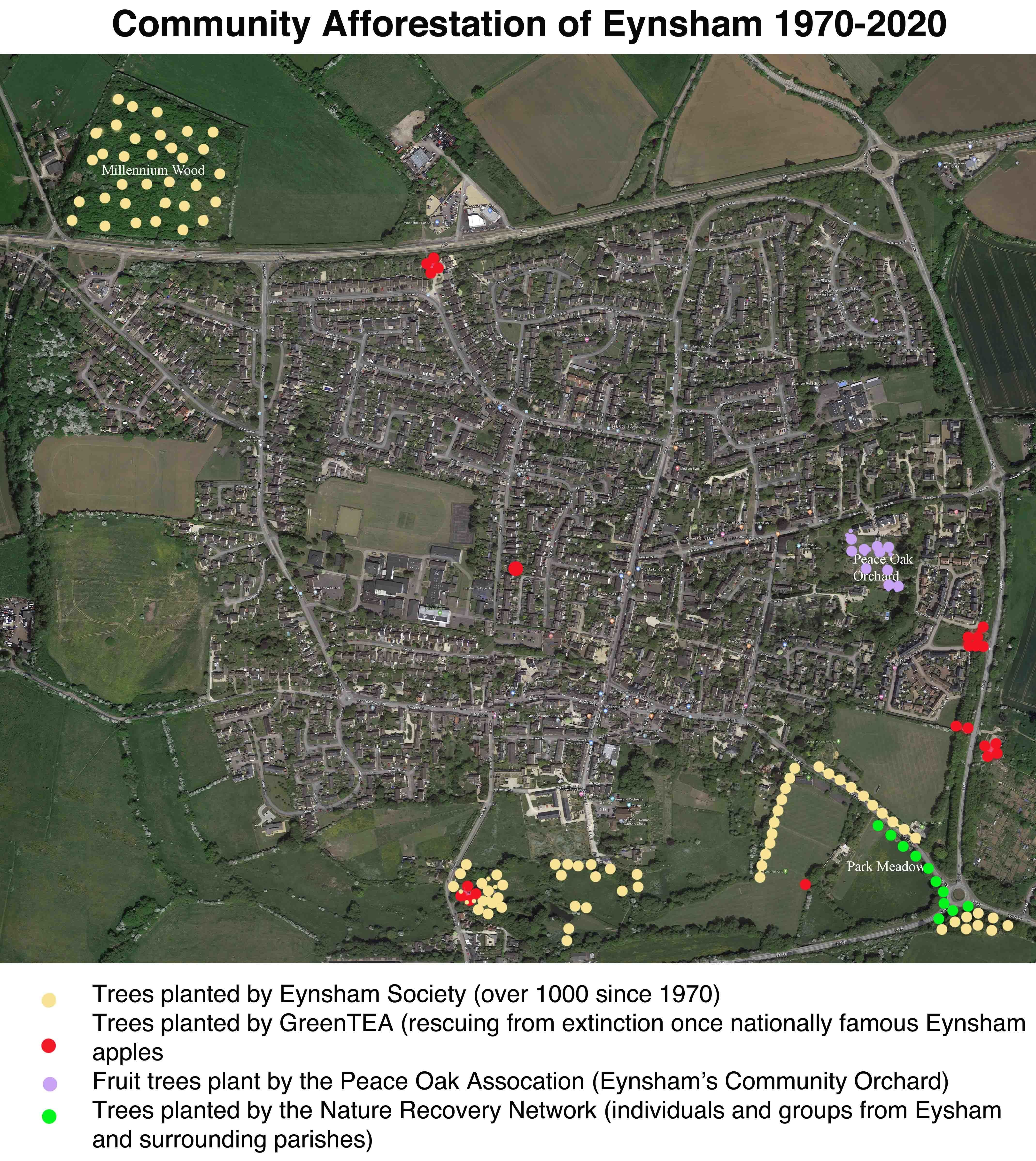 Photons for synthesis
It is only very recently that the value of trees (beyond their traditional utility as a source of fuel, building material or food) is starting to be appreciated, chiefly because of the scientific evidence about the effects of rising concentrations of 'greenhouse gases' on global warming.
Carbon dioxide (CO2) levels are rising relentlessly and in 2020 reached their highest level in 800 000 years (417 parts per million). Trees, through their photosynthesis and growth, seem to offer the best natural means of extracting atmospheric CO2 and storing the carbon as constituents of wood, like cellulose. A study published last year in Science Magazine attracted widespread media attention, because its authors estimated that the Earth currently has 0.9 billion hectares that are suitable for planting forests, which could store 205 gigatonnes of carbon and thus largely mitigate present CO2 emissions.1 The study's conclusion: that tree-planting offers the most effective solution to global warming does need some qualification, however, as the authors themselves admitted when there was strong criticism from their peers about some of their claims. One should also recognise that trees store 80% of their carbon in the trunk and canopy, so when trees burn or get diseased and are cut down, most of the carbon they have stored is released again. As we've all read in recent headlines, man-made and naturally occurring forest fires are increasing in extent and frequency2 as is the spread of diseases.

Really renewable, or renewable – really?

The use of wood as biomass for burning once seemed attractive as an infinitely renewable energy source. However, the CO2 emissions problem has shown up the real cost to the planet, as the gains in carbon capture by trees are nullified on burning, unless one straps on carbon capture technology. Forest fires may not be common in the UK, but wood is burned on a huge scale, because many former coal-fired power stations were converted to wood-pellet fuel. Drax in North Yorkshire, produces around 12% of the UK's total electricity and is the world's largest biomass-fired power station. It is no source of pride that the UK is a world-beater in wood pellet import – 8.5 million metric tons (from the USA and Canada), with additional cumulative costs to the environment from obtaining the raw material, manufacturing the pellets, transporting the pellets by land and sea to North Yorkshire. Drax burns most of the UK's wood pellet imports3 - around 7 million metric tons each year.

Burning a renewable resource for energy seems preferable to burning fossil fuels mined in Russia or elsewhere, but the problem is that it takes minutes to incinerate a tree and decades to grow one. The sop often proffered is that biomass is carbon-neutral, unlike coal, oil or gas, because you spend only what you have saved. But, in the end, it is our continued reliance of carbon-based energy production, including biomass boilers that we need to address. As we have seen, the UK cannot produce nearly enough renewable biomass to meet its own requirements and thus is dependent on massive imports. Furthermore, the burning of biomass has other knock-on effects - particulate pollution, and other polluting gases, on a scale that cannot be mitigated by the present government's goal of planting millions of trees4. Thus, the additional technological solutions, like 'scrubbers' to remove pollutants are needed, particularly if we are to have any hope of achieving 'Net-Zero' in our carbon budget5.