Well, the summer has well and truly vanished, the swifts are long gone and we're submerged under another Covid wave. This is a good moment to consider the positive and to relish some of our collective successes.
Sarah Couch of Acre End Street reports that our swifts have done well this year and sparrows have been warming up the new swift boxes for next year's swift brood. On Long Mead, for over a week in August, a 1000 swallows and housemartins frolicked with their fledglings, feeding on the diverse array of succulent insects that this ancient species-rich floodplain hay meadow provides. We are building up good long-term data in Eynsham's garden wildlife survey. There's a great core of regulars and an equally wonderful bunch of surveyors on a whim – our motto: all sightings are good so don't be put off if you can't be regular.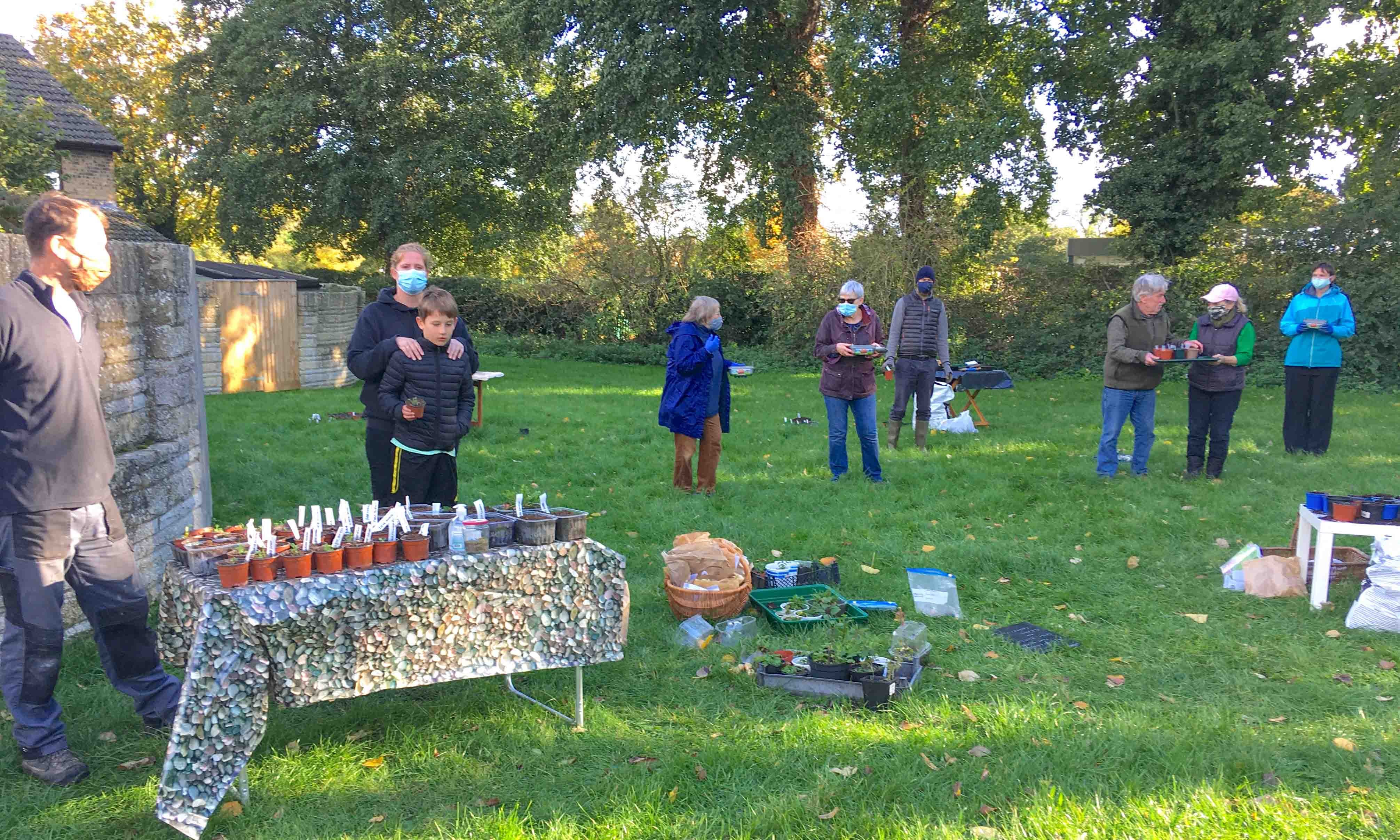 Don Reid reports on how Dovehouse Close residents came together for a 'Sowing Bee' at the end of October, when they sowed wildflower seeds in pots to add to their new meadow next year. They are helping Eynsham Primary School sow wildflower seeds as part of Science Week. The Willow Group are making great progress with their willow coppice, as Charlotte Holmes and Andy Goodwin report below.
St Leonard's Community and the Peace Oak folk have been monitoring slow worms and grass snakes over the summer, under the expert guidance of Neil Clennell of Queen's Street - herpetologist and CEO of the Wychwood Project. Kate and Hannah Shaw of Spareacre Lane report below (full results coming soon).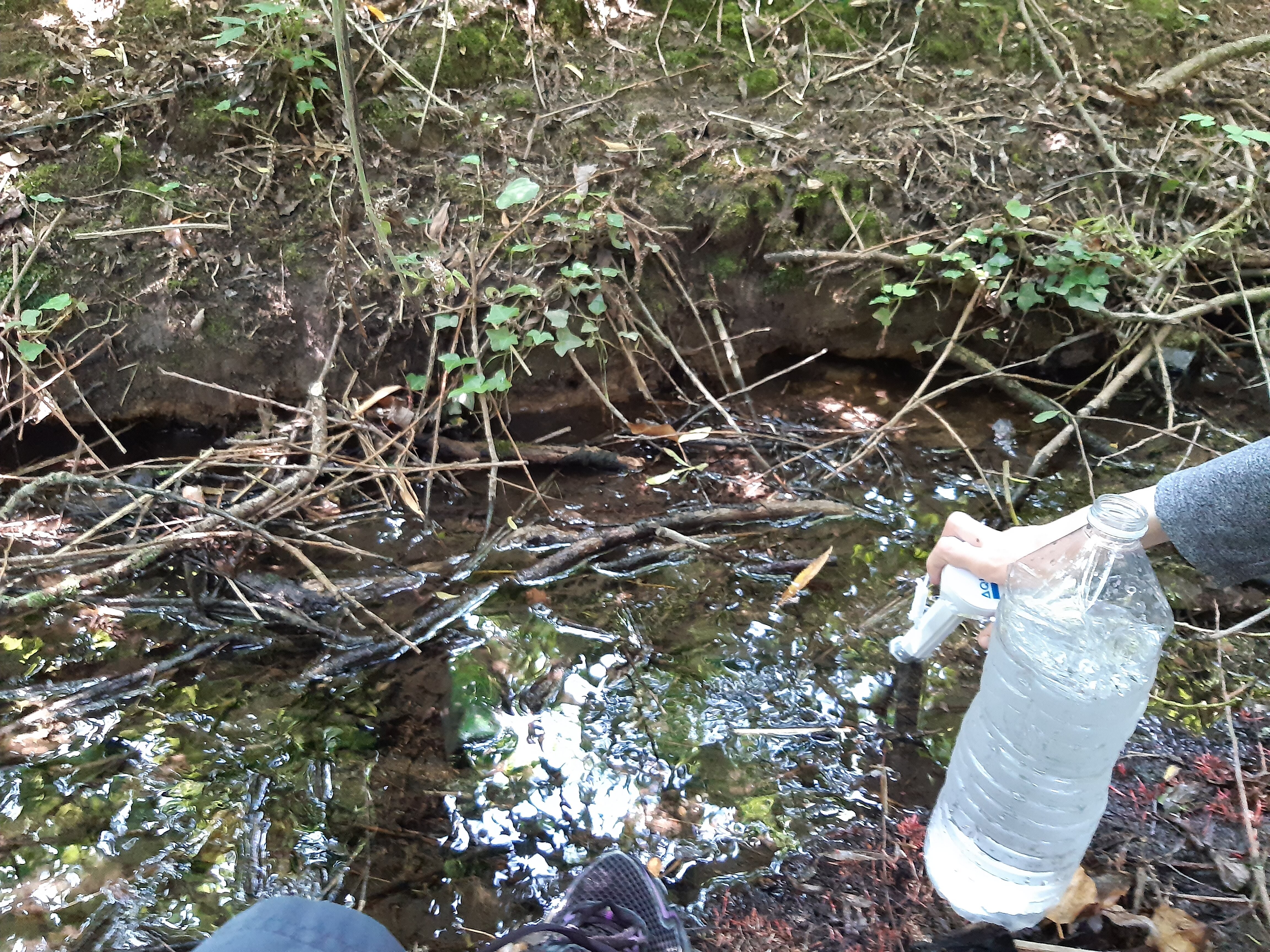 Lucy Dickension of Old Witney Road has launched the Nature Recovery Network's Freshwater Quality Survey and is leading the testing of our streams and rivers and ponds, with 6 sites in Eynsham and one is South Leigh, so far. NRN has acquired a professional testing kit, thanks to a grant from the Councillor Priority Fund, kindly facilitated by County Councillor Charles Mathew. Lucy is taking in water samples to Eynsham Primary School to test with Year 6 as part of their Science Week. (Full report coming soon).
The Rotary Club has offered £500 and volunteers for trees planting. David Haynes is co-ordinating a plan. GreenTEA masterminded an amazing walking trail around Eynsham to showcase the work that Green TEA and others are doing to promote a more environmentally friendly community. Sadly, twice thwarted by Covid but still undaunted, GreenTEA are now a long-term exhibition to take its place.
Finally, to see us through lock-down (November being the best month for sowing wildflower seeds, according to wildflower guru Charlotte de la Bedoyere) expert gardener Heather Horner from South Leigh and NRN have come up with a wildflower seed experiment.
Heather's Wildflower Mix Experiment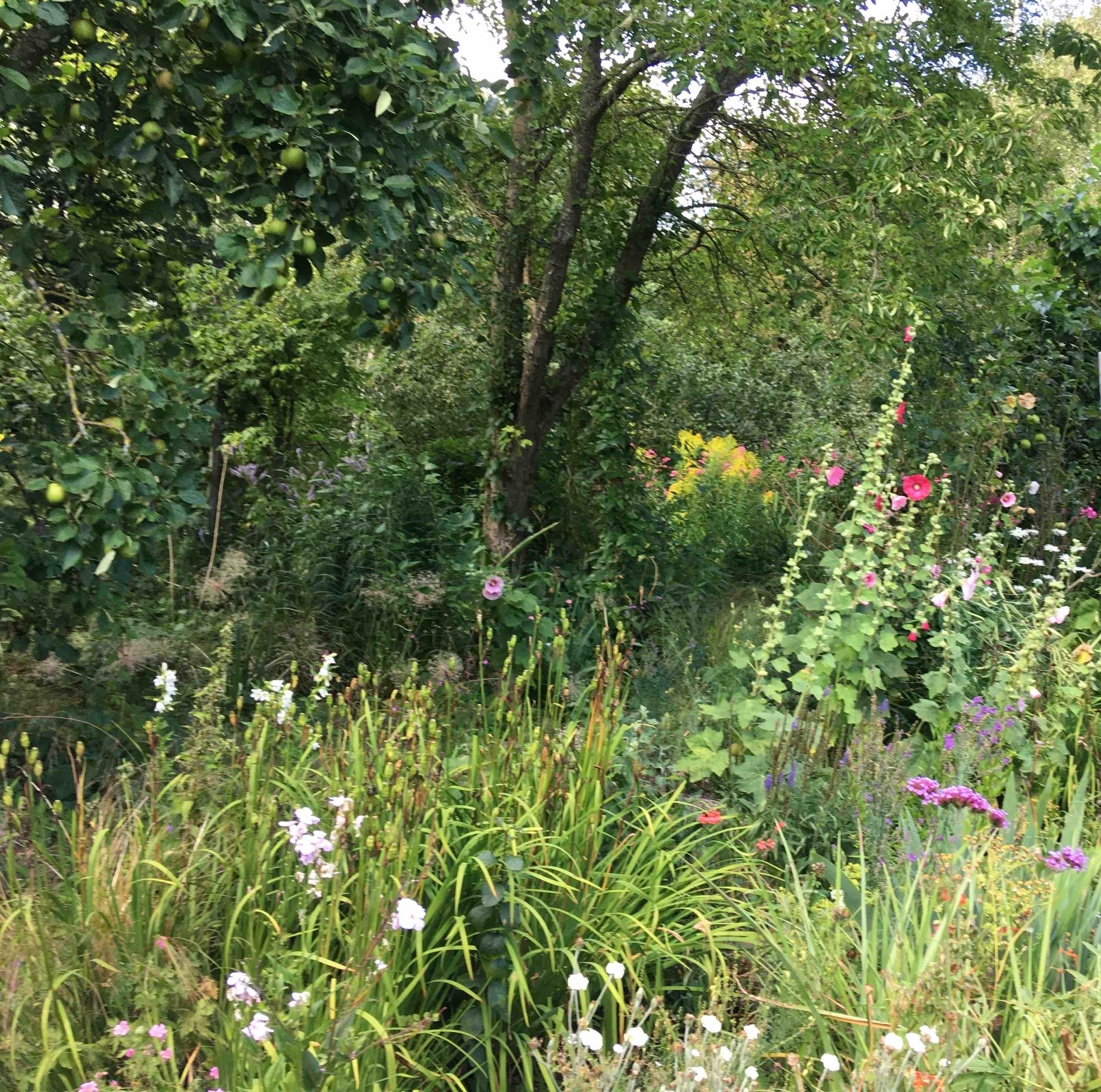 As many of you know, the NRN advocates the gardener's golden rule of Right Plant, Right Place in sowing and planting wildflowers. Responding to the many would-be wildflower enthusiasts, who complained that they'd 'tried wildflowers and they didn't work', July's newsletter railed against seed mixes that combine annuals and perennials because they require different conditions and different management, and this is rarely made clear.
However, Heather has been collecting her own seed for decades. She mixes annuals and perennials together with the happy optimism that something interesting will come up somewhere and will probably go on coming up and she relishes the joy of seeing what happens where. Her garden is the veritable Garden Jungle.
Heather is offering her seed mix with detailed instructions that give the best chance of some annuals and some perennials coming up, depending on the shadyness, fertility and dampness of the soil and how it is managed over time.
To tie in with NRN's philosophy of evidenced-based conservation (and in order not to discourage those who are new to wildflowers and need a helping hand), NRN is proposing a collective experiment with Heather's seed mix. The idea is that we all record how we plant the seeds in our gardens and compare notes over the next three years. This will provide a valuable record, not only of what might thrive over time under different conditions, but also provide evidence on using seed-mixes for community conservation efforts.
Email us if you'd like a bag of seeds and instructions on how to take part. (Note: NRN suggests that it is important to respect the historic nature of the landscape, where it still exists as historic buildings are respected (listed). So, in public grasslands such village verges, village greens, historically grassed areas of churchyards etc. wildflower mixes that include poppies and other annuals, which would have been found in cornfields, are out of place.)
Eynsham's Swifts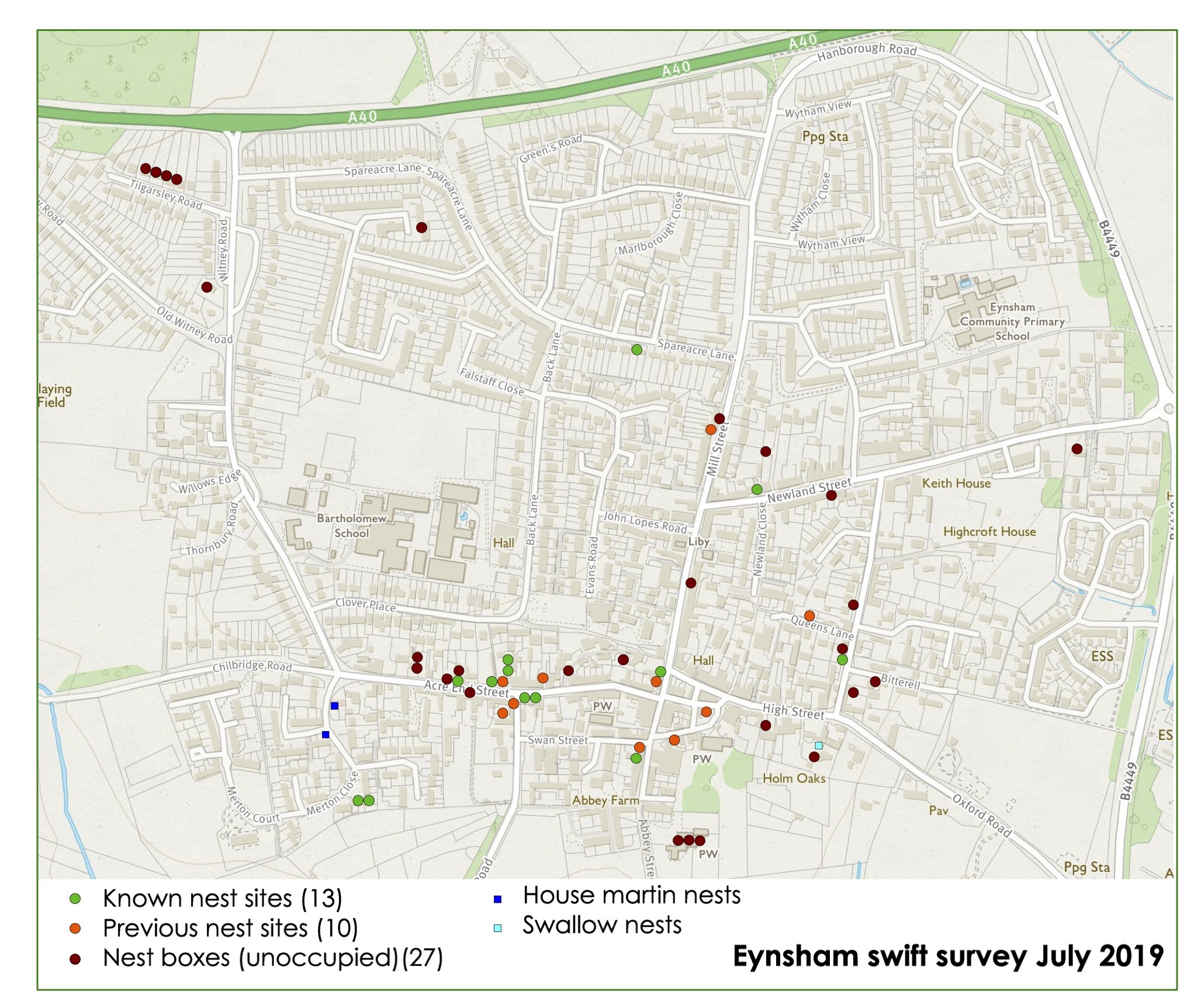 Sarah Couch writes:
"A small group repeated the swift survey this July and the situation is encouraging. Although some old nest sites were unoccupied, we found several new ones and we noticed extra nests in established sites - they are sociable birds and really do like to be in a colony. It was particularly busy around the middle of Acre End Street and you might have experienced the thrilling sight and sound of 'screaming parties' racing along the street, going right up to occupied nests to be greeted by squeaks from the nest's occupants. Two grounded swiftlets were successfully rescued by Sally Taylor our resident bird expert and nurtured at the rescue centre. Last year we saw 13 nests occupied, this year it was 20. Some swift boxes were occupied by sparrows which can encourage swifts to take over.
There were many more house martins too, particularly in the west of the village- maybe encouraged by nest building material from the muddy scrape at Thornbury Green. In early September, there are still large chattering groups of martins overhead. Alice says her martins have had 3 broods this year. Soon they will have all headed south and we look froward to the return of the miraculous swifts and their friends next May."
Here is fantastic video by Alice Walker and her daughter Hope of swifts in Merton Close - home of the famed 'Merton martins'.
Dovehouse Close's Great Sowing Bee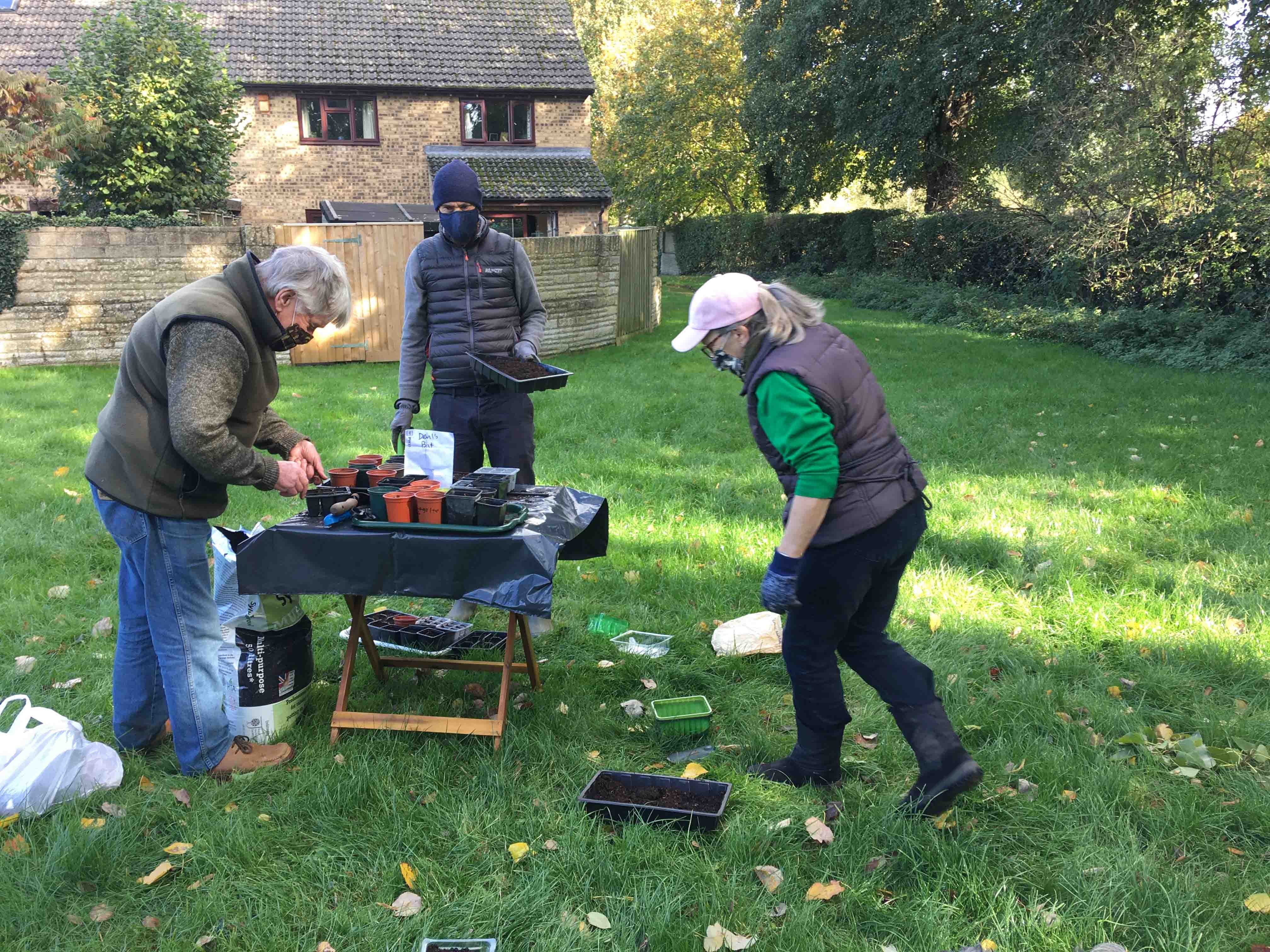 Don Reid writes:
"On Sunday 11th October, the recent wet weather relented for just one day, so the Dovehouse Close branch of Eynsham Nature's Meadow Recovery Project (aka. Dovehouse Close Residents) came out in force for the next stage of the plan: to plant wild meadow flower seeds in pots and distribute them among the members to nurture until the established plants are planted out in the new Dovehouse meadow, to give it a head start. The plastic pots were all collected by the group and the soil provided by the Parish Council.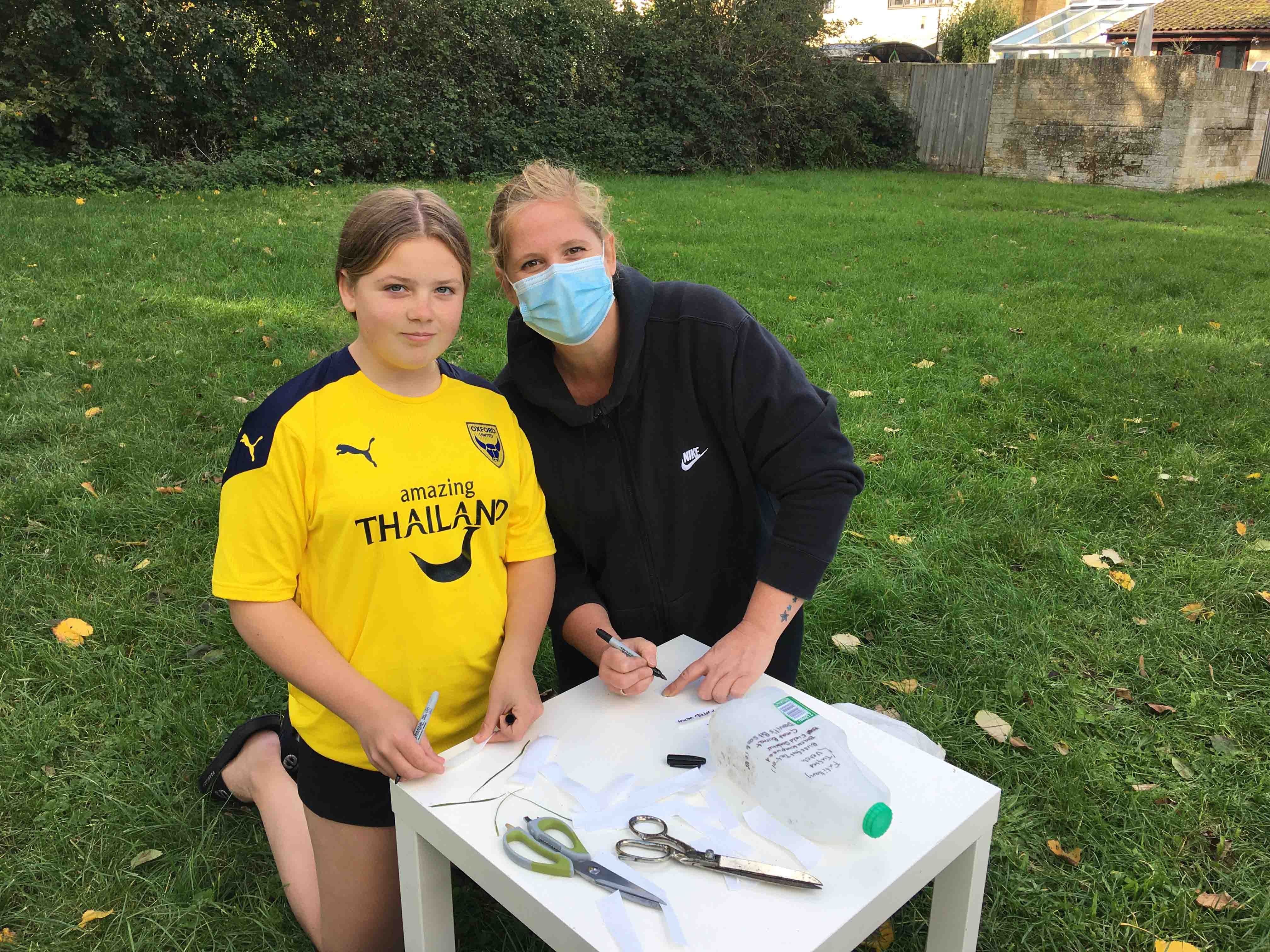 Observing social distancing rules, and advised by Catriona Bass, the 12 of us split into 3 groups working on separate picnic tables, some filling pots, some sowing, and others making labels from yoghurt pots. Seeds sown were black knapweed, great burnet, ragged robin, ox-eye daisy, devil's bit scabious, birdsfoot trefoil, great mullein, tufted vetch, meadowsweet, and lady's bedstraw. Red campion was sown as a future repressor of excessive nettle growth.
Watch this space for results next year!"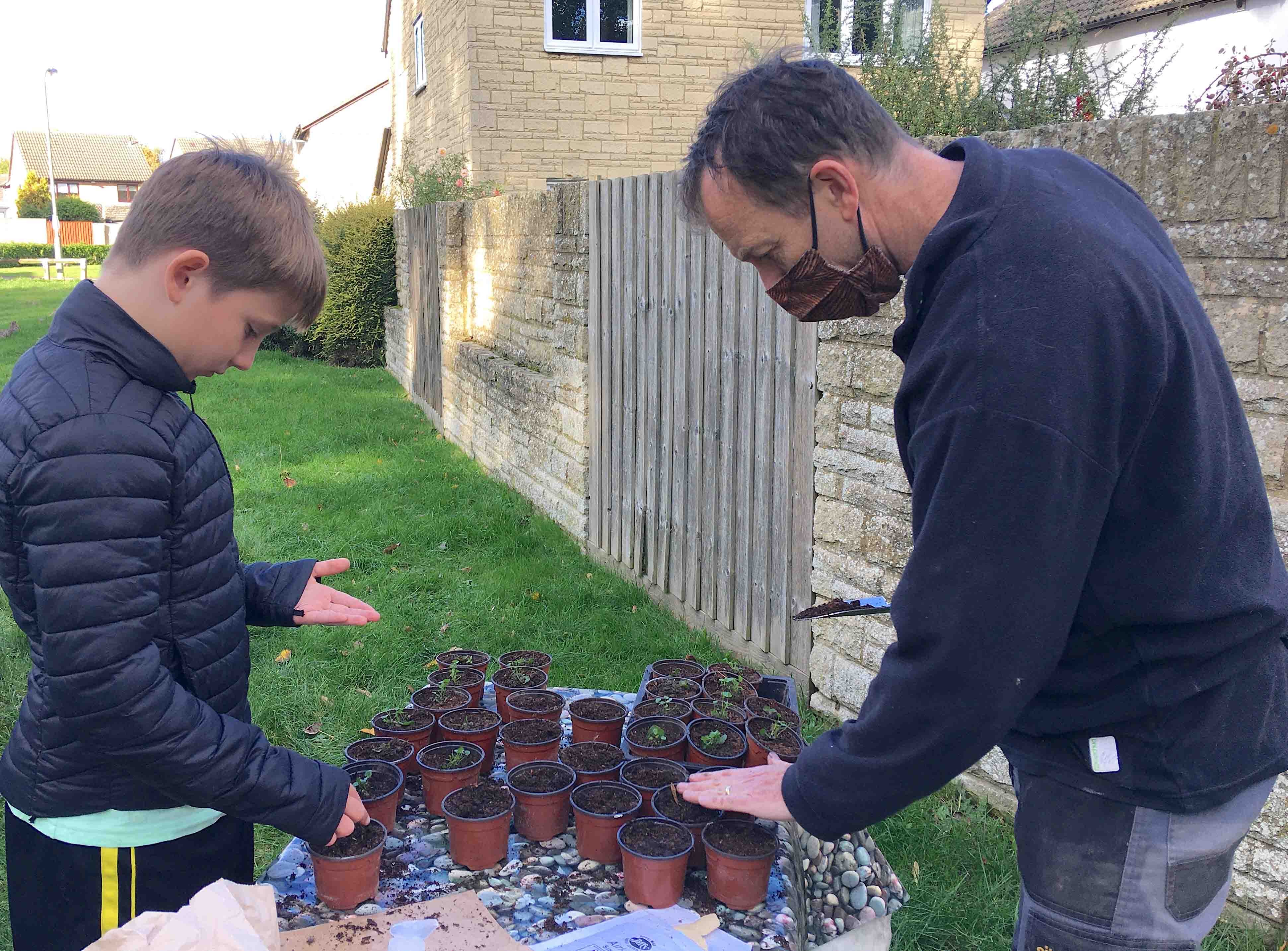 Peace Oak Reptile Survey